(1995-present)
11/09/1976
Instruments: banjo, bass guitars, guitars, keyboards, mandolin, electric sitar, pipa, percussion, touch guitar, upright bass, vocal, various wind instruments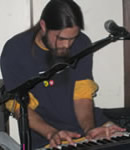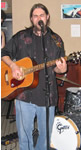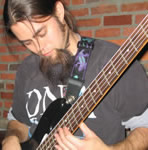 Matt has been playing music for a very long time. He began with the classical guitar at age 6 (1983), under his parents' guidance. Guitar teacher, Chalres Suovanen, had much to do with Matt's musical foundation. By the age of 14, Matt had encountered the electric guitar, which opened to him a world of new and enchanting sounds. Much practicing ensued.
During his sophmore year in college (1995), Matt formed the band Wyld Type Hybrid with a few friends. After numerous attempts to find a bassist, he undertook the task of learning yet another new instrument, the electric bass guitar. By 1997 he had picked up the keyboards. The demo, "Tomorrow" was recorded, followed closely by the album, Songs From the Book of Ken Jones.
In 2000, Matt was reunited with Chuck, childhood jam partner. They soon cut the album, Chicanery for a Common Rube. By 2001, Matt began experimenting with the touch guitar, thanks to a generous Christmas bonus and vested stock options. Placebo Please? was then written and recorded.  The First Law of Thermodynamics was released as a follow-up in 2006. In the year 2004, Matt began conceiving the ideas for the Legends album series.  This enabled him to explore a myriad of genres, ranging from classical to funk to soul to metal to jazz.
Throughout the years, Matt has played with a variety of bands including, Catsmeow, Enda, The Poet Tree Project, Mr. Jones, Confucius Says…, The Dave Alpert Band, Custom Deluxe, Carbin, Bluebird, Bonafide, Semi Good Lookin, and the Brett Walberg Revolving Trio. He currently resides in the Boston area and gigs regularly with the latter three projects.
Most recently, Matt has been building up his jazz chops.  He plays regularly with Harvey Finstein and Brett Walberg in the Boston/Cambridge area.
Influences: Chuck Rainey, Alphonso Johnson, Geddy Lee, John Paul Jones, Jaco Pastorius, Trey Gunn, Larry Carlton, John Medeski, Charlie Hunter, Peter White, Charles Mingus, Christian McBride.

Equipment: Fender American Standard 5-string Jazz Bass Guitar, Conklin 7-string Bass Guitar, 14-string Warr Guitar, Warwick 6-string Fretless Thumb Bass, Upton Upright Bass, Ramirez Classical Guitar, Martin Acoustic Guitar, American Standard Stratocaster, Les Paul Standard Traditional, PRS SE, Ibanez Destroyer II, Korg N-5 Keyboard, Fender 5-string Banjo, Ampeg SVT-4Pro, SWR Golliath III, Fender Twin Reverb, Vox AC30C2X, Bogner Shiva, Marshall JC2000, Mesa Boogie Dual Rectifier